About From the Field
Since our beginning in 1999, Protecting the planet was the inspiration for this adorable and meaningful line of products. Our materials provide hope against the deforestation and raging pollution that we are now experiencing.
Loved by the most finicky of Earth's creatures, From the Field pet toys offer pet owners an opportunity to please their pets without hurting their environment.
We provide the best quality toys using materials such as hemp, wood, cork and potent fresh organically grown catnip.
We choose to use hemp to make our products due to its strong and durable nature. Hemp fiber is a renewable, earth friendly replacement for paper, cotton, and other synthetics building material. Hemp seed oil is a cost effective food and clean energy source.
ABOUT OUR CATNIP
From the Field has been working with and growing catnip for 20 years. Our catnip and our products are grown and produced in beautiful Washington state.
Our catnip is a cut above over most, as we let the plant reach full maturity before it is harvested, so it is loaded with pure essential oil and blooms. Plus we only offer catnip that is no more than one year old from harvest.
The active natural Chemical present in catnip is 'Nepetalactone'. Cats have a special gland at the roof of their mouth called 'Vomeronasal'. Nepetalactone is similar to cats natural pheromones, and it is through that gland that cats get the well known crazy effect of catnip!
We offer different formats of catnip: Leaf and Flower, whole Buds, Fine ground kitty safe, catnip pellets, and catnip essential oil liquid spray Rejuvenator.
We also created 2 blends: Valerian root + catnip and Silver vine + catnip.
In our line, you can find a variety of cat toys made with hemp fabric and hemp rope filled with our catnip.
In Short, we believe in creating products that are bio-degradable, pet safe, pet friendly and pet smart.
Retailers, you can be confident that when you buy From The Field products for your store(s), you are making a good investment for your business, your customers, their pets and the planet.
KEEP IT NATURAL, PICK FROM THE FIELD!
Environmentally yours,
Pascal Bedard & Aimee Ross
From the Field LLC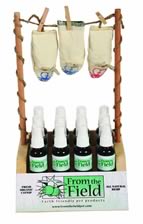 Look for our deluxe display in your favorite store!

* If your cat licks Shelby The Hemp Mouse face, no worry, it is stamped with
food colorant!