Your Feline Friend will love these organic cat toys
Cat Fancy June 2012 issue present an article on eco-friendly cat toys, featuring two From The Field Cat toys!
Good the for the planet, fun for your cat
Cat enthusiasts are becoming more aware of the importance of enriching feline lives with toys and games that give cats both mental and physical stimulation, as well as stave off boredom. Now the latest trend in toys focuses on playthings made from certified organic catnip and from natural, sustainable resources, such as hemp, bamboo and wool, as well as recycled materials.

The twirling effect of the interactive Freddy's Feather Wand will trigger your cat's natural bird hunting instincts and allow you to spend quality time engaging with your cat. Made from all-natural, biodegradable materials such as cork, hemp and wood with natural, dye-free feathers, the wand is two feet long, and the hemp string is three feet long.
Mice Dreams
Made from tough, natural hemp fabric, Shelby the Hemp Mouse is available as a complete toy or with an opening in the tummy that can be filled with catnip. The mouse's face is stamped with a natural food colorant, and the ears and tail are raw hemp twice. When your cat is done playing, the entire toy is biodegradable.
Source : Cat Fancy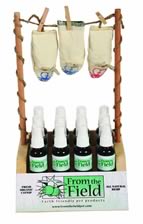 Look for our deluxe display in your favorite store!

* If your cat licks Shelby The Hemp Mouse face, no worry, it is stamped with
food colorant!